Community fun day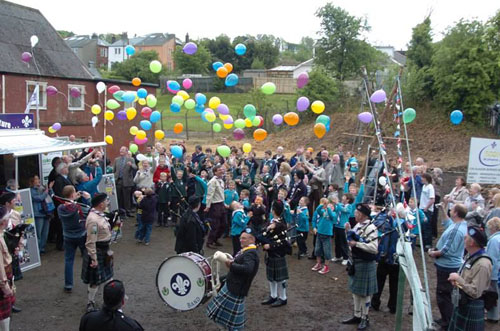 On Saturday 16 May we hosted a community fun day at the Scout Hall, open to all families across Burnside and the surrounding area.
Thank you to the following local business that helped to make our centenary Taste and Try Scouting Day the day a big success:
Somerfield in Burnside
Burnside Hotel
William Christie Butchers Limited,
Silver Dragon Chinese Take-Away
Blue Rupee Indian Restaurant
Kingspark Hotel
L.A. Hair Studio
Café India Take-Away
Dellos Fish & Chip Shop
Michaelangus Hair Salon
Marini's Fish & Chip Shop
New India Palms Restaurant
L Matthews & Sons Butchers
Mosko Man & Woman Hairdressers
Fratelli's Italian Restaurant
Cathkin Community Nursery
Kaixin Cuisine Restaurant
Number one Nails
Alida Camillo Hair and Beauty
Taste Good Inn Chinese Restaurant
Estelle's Nail & Beauty
McIntyre Family Butcher
The Dry Cleaning & Ironing Company
Goldie-Locks Hair Studio
Peking Palace Restaurant
A Warnock Butchers
Mimosa Health & Beauty
James Coull Bakery
Lee Palace Chinese Restaurant
Rutherglen Power Tools
Noel Kegg Limited
Semi-Chem Chemist
Le Sorelle Home & Gift Boutique.
Back to Centenary celebrations.